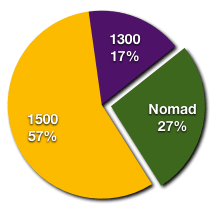 The Nomad 5-door hatch was a relatively new concept in 1969 and its acceptance by the Australin car-buying public was not guaranteed.
But unfortunately it seems BMC erred too much on the side of caution in its reading of the market and predicting, as it did, that the sedans would out sell the Nomad by a very wide margin. As production was geared to that outcome BMC couldn't meet the unexpectedly high initial demand for the Nomad, and sales were unavoidably restricted.
The Nomad was more popular than BMC had expected and had the potential to become more than just 27% of overall production - if only BMC had been able to alter the heavily skewed production mix sooner...
Up to July 1970
From the outset the 1500 sedan was easily the most popular accounting for two out of three cars built - it was also the cheapest. Similarly, the Nomad Auto was the dearest and attracted the fewest sales.

Initial demand for the Nomad was reported to be higher that for the sedan - which caught BMC by surprise - but the resulting lack of supply of the Nomad saw demand slump.

The relative lack of sales of the 1300 can be explained by a surplus of the superceeded 1100 S Automatics (also with 1,275cc engines) which were introduced only a few months before the new model range. These were sold along side the new range and were a little cheaper than the 1300.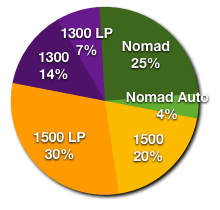 After July 1970
The introduction of the 5-speed gearbox and the Luxury Pack options in July 1970 gave buyers a wider choice. BMC finally increased the production of Nomads and the sales of Automatic cars increased as well - the proportion of 1300s almost doubled.
$2,318 Morris 1500
$2,380 Morris 1500 LP
$2,443 Morris Nomad
$2,509 Morris 1300
$2,571 Morris 1300 LP
$2,634 Morris Nomad Automatic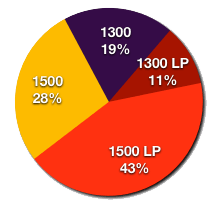 Luxury Pack popularity
The Luxury Pack proved a winner with buyers of the 1500 sedan with around 60% opting to spend the extra $62 for it.
The reverse was true for the 1300 with only a third of buyers choosing the LP version - perhaps the extra cost of the automatic transmission was a contributing factor. At almost 10% dearer than the manual sedan to begin with, adding the Luxury Pack made the 1300 LP the most expensive sedan version of the range.
During the time it was available, the Luxury Pack enjoyed a 54% take up rate.
The final picture
Combining the two periods to get the final picture shows that the most common model produced to be the 1500 sedan.

Following this are the manual Nomad, 1500 LP and 1300 sedan.

Bringing up the rear by some distance are easily the rarest models, the 1300 LP and lastly, the Nomad Automatic (the most expensive model) of which less than 1,000 were sold.