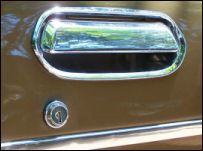 Other changes noted were the "cropped" tail lamp fins, flush door handles, wider grille and bonnet bulge (to fit the bigger engine).
On the inside there was a strip speedo, flush fitting door handles and soft window winders - but Wheels was most delighted that the Indicator Switch had been redesigned removing the warning lamp from the end of the stalk and placing twin green arrows on the instrument panel, directly below the fuel and temperature gauges.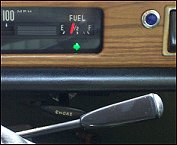 Disappointment was expressed at the omission of reversing lights, the windscreen washers still being plunger operated, wipers only single speed and the heater/demister not fan assisted.
Wheels concluded that the new engine gave a refreshing lift to performance, the Nomad version was a very useable station wagon and overall the new range was very acceptable apart from the cable gear linkage.